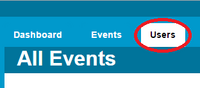 To manage users, after logging in select the "Users" tab from the navigation bar at the top of the page.
Creating a User
Edit

Creating a new user on UTS EMS is fairly simple procedure. Below the list of users is the add new option.
Select the type of user you wish to create and then click the "+" button.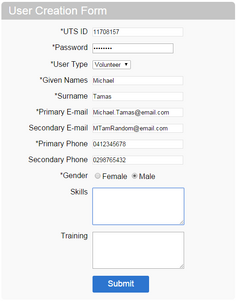 You will be directed to a form in which you should enter as many of the details that you know. Any unknown details can be later added by the user.
Editing a User
Edit
To edit a users details, select the button next to the users name on the list and then click the "update" button at the bottom of the page.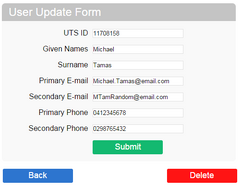 Change the required details and then select the "submit" button.
From this page, you can also delete users by selecting the "delete" button. Warning, this will delete the user and their records and will near impossible to restore, do not do this without reason.