Username & Password
Edit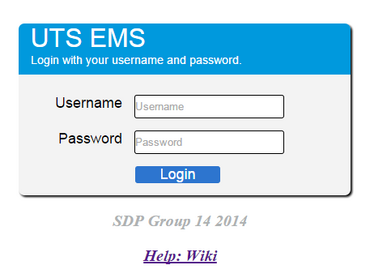 UTS Students & Staff
Edit
Your Username for this system is the UTS ID you use for all other UTS logins.
Your Password for this system is the Password associated with your UTS login.
If you are a UTS student or staff member without a UTS ID, we suggest you talk to someone in UTS technical support.
If you do not remember your password, or if you think someone may have stolen and changed it, please contact UTS technical support immediately.
Visitors
Edit
You should have received a login ID & Password from the Event Manager who invited you to the UTS event. If not, you can view the public areas of the system for now, and either sign up and request an account on the Registration page, else contact the event manager.
Managing and Events
Edit
As a volunteer or sprout, after logging in you will be able to inquire about events or activities.
As a manager you can create or edit events, as well as manage users.